Beautiful Templates
Choose from a selection of designer-made templtates
Set Up in a Few Minutes
It only takes a couple of clicks and in less than 5 minutes your website is ready to go live!
Get a Custom Domain
Purchase and connect your custom domain directly from your dashboard!
Mobile Optimized
All of our website templates are fully mobile compatible and look great on any device.
Market your new listing with style
The industry leading real estate website builder that powers over 10,000 website for agents and brokers across the world.
Win More Listings
Take your online marketing to the next level. Impress sellers and potential clients with stunning listing websites.
Streamlined Marketing Tools
Rela's web marketing tools allow you to easily share and distribute your listing with a click of a button. Get advanced traffic analytics and manage leads directly from your dashboard!
Be Better Than Your Competition
Our single property website designs will ensure that you stand out amongst the competition. Stop being boring, be awesome.
Save Time. Save Money.
Our real estate website platform delivers professional quality results in less than 5 minutes at a fraction of the cost of what you would pay for a typical web developer.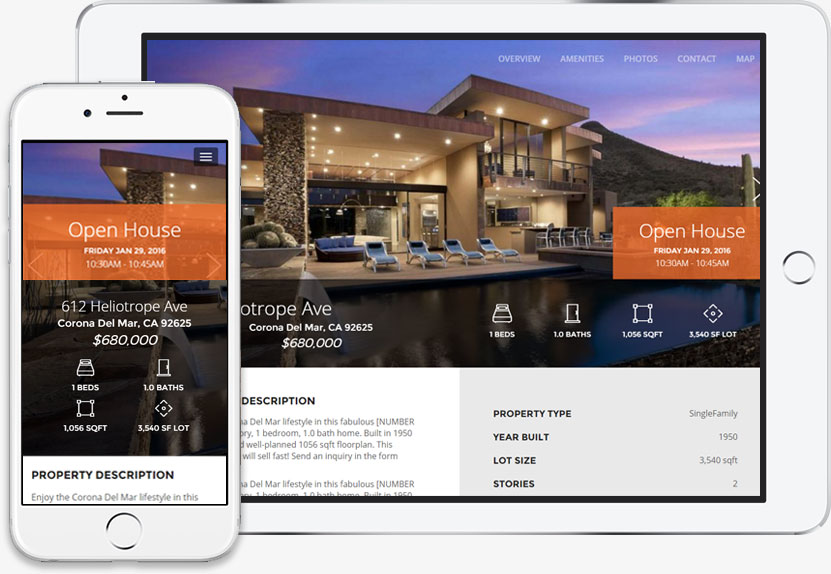 Go ahead. Take it for a spin.
Sign up to get started with Rela and you'll have a fully customized single property website in just a few clicks.